Getting into discussions with people who oppose sex workers' rights can be absolutely draining. Most of us on the pro-side are sex workers or are close to sex workers, so these topics concern our own lives, our safety, the wellbeing of our loved ones. It causes an emotional reaction when something that basic is being attacked.
But not all prohibitionists, or 'anti's', are alike. When I was younger I thought it was quite intuitive that a person can consent to commercial sex, and people around me generally seemed to believe that if a person really wanted to be a prostitute, more power to her. But I also believed, like the people around me, that very few women would want to have sex with ugly strangers. Surely most got into the business because they had no other choice. Like many people in my social circle I used to believe most whores needed help, financial or health-wise. The image I had was that of a drug-addicted sad person in a little unkempt flat. Except the few glamorous high-class escorts of course, whom intrigued me to no end. I used to believe most sex workers were of lower social-economic status which meant 'my class' had responsibilities to protect them. I used to believe that most sex workers preferred to get out of the business and would accept a nice little job with a cute little salary in a factory or in a service position if it were offered to them. Based on all these ideas I believed in a help-based approach, those few happy hookers we should leave alone, but healthcare and exit-programmes needed to be our first priority. Prostitutes were vulnerable women who needed our help.
Contact with actual sex workers challenged those arrogant assumptions like a motherfucker, obviously.
The Neutrals
Most anti's are not truly anti's, but rather neutrals who base their opinions on wrong information. Just like I did. And I think that as activists these neutrals should be our primary audience, because when they are confronted with enough facts that conflict their beliefs, they change their minds. They become allies.
The biggest problem when talking to neutrals is a process called cognitive dissonance reduction. We all want to believe we are reasonable people who base their opinions on good information. So when we're told our actions were based on lies and myths and actually harmed the people we meant to help, that causes cognitive dissonance: it conflicts with what we believe about ourselves. To reduce this dissonance we can do three things. We can change our first belief ("seems I'm not such a good, reasonable person after all"), reject the conflicting belief ("Everyone knows most whores are unhappy, you're wrong") or find a way to reconcile the two beliefs ("Even good, reasonable people are sometimes mistaken. I guess I was wrong"). The last option is a bit of a blow to our ego, it's a very vulnerable thing to do. A non-hostile enviroment where you don't feel personally attacked makes it a lot easier to admit your mistakes.
We're told a lot of lies about sex, women and sex work. The idea of sex workers' agency itself challenges some of our culture's most basic beliefs. So naturally it causes a lot of resistance when those beliefs are brought into question, nobody likes to change their opinion on what they had always believed to be true. But at the same time we do process new information, and we are capable of changing our minds.
In contrast to the name, some neutrals can sound convincingly anti. They'll repeat the lies and myths and advocate for harmful and discriminatory laws, they might be in favour of the Nordic Model or write horrible articles. But beneath all of that are no real convictions, it's just fluff.
Neutrals benefit from correct information and contact with actual sex workers. My partner was a pro-leaning neutral when I met him, he had never met a sex worker and didn't know too much about the subject. All it took was a little bit of information and some socialising with the sex workers in my social circle to turn him into a full-blown sex workers' rights supporter. I talked to a devout young Christian woman a couple of months ago whose church donated to a rescue organisation. I made sure not to make her feel attacked as I punched her in the brain with information about trafficking, the rescue industry, sex workers' rights and problems around prostitution, and she changed her mind. The same people who think Jojanneke's deceitful documentary was insightful will also consider what actual sex workers have to say. That's why visibility is so important, and why PROUD and many other organisations are doing such a fucking great job. Neutrals can be reached, they change their minds and become allies.
The Bad Guys
But not all anti's are honestly mistaken. Sex workers are a vulnerable group of people with very little protection, and it attracts bad guys like vulchers to a wounded animal. Amsterdam mayor v/d Laan isn't closing workplaces for prostitutes because he believes it helps them, he knows perfectly well he's sacrificing sex workers' rights and safety for financial and political gains. He doesn't care. I respected Felicia Anna for speaking to him, and I think her words will have an impact on some of the neutrals that saw the video. But the mayor doesn't listen, because he already knows he's harming whores. He believes he can get away with it. The rescue industry became a million-dollar business when people figured out they could freely abduct prostitutes and keep them as slaves if they call it 'help'. People like Somaly Mam know perfectly well they are lying, and they make a profit off of the abuse of sex workers. They get way with it because neutrals don't know better and believe the lies. The producers and host of the tv-show "8 Minutes" fully understand they contribute nothing of value to sex workers' lives. They thought they could use prostitutes for free, abuse and humiliate them for their profit, and they did it because it's good money. Bad Guys are against sex workers' rights because they appreciate the opportunities to exploit the vulnerable.
(8 minutes didn't get away with it though. Sex workers made noise and the show got cancelled! Here's a picture of the awesome Mistress Matisse celebrating).
Dear @tomformanprod, and "Pastor Kevin" and everyone responsible for #8minutes: TOLD YOU I WAS COMING FOR YOU pic.twitter.com/8SpHGMusTl

— mistressmatisse (@mistressmatisse) May 5, 2015

It's no use trying to reason with Bad Guys, because they already understand. They know very well indeed that sex workers are harmed and only rights can stop the wrongs. They just don't give a shit.
The Fetishists
Reading texts by certain anti-prostitution activists can become a bit awkward when you start to notice it reads like erotica. It's common knowledge among psychologists and sexologists that many people get aroused by taboo subjects, sex isn't just sweetness and light and roses. Some people find a healthy way to express these darker aspects of sexuality, kinksters for example are well-known for bringing these fantasies to the surface and acting on them in a consensual, conscious way. But when someone is taught not to recognise these urges, told sex should always be 'making love' and to deny any agressive, perverse sexual impulse they feel, it sometimes finds.. well, inappropriate ways of expression.
It's important to note that all of us are a bit inappropriate when it comes to the suffering of others. There's a reason why books and magazines so often describe rape, child abuse, assault and other forms of sexual violence in such a detailed and emotional way, readers seem to find it strangely pleasurable to feel horrified and want to know every dirty aspect of it. There's a Dutch magazine called Panorama that intelligently combines horrific stories of abductions, murders and other shocking events with photo's of sexy women, because they understand the physical excitement of reading about others' misery is very much like physical arousal. I don't necessarily believe this is wrong, but we need to draw the line when our perving becomes harmful to others.
"But didn't you hear about this girl in Berlin the other day? She had been trafficked when she was only 11 years old, in her first year alone she was raped by up to 12 men a day. She was rarely allowed to shower and would have sperm in and on her as she slept. They raped her with huge objects too, sometimes even.."
"Look I understand, but criminalisation of adult sex work would not have helped her. Sex workers' rights actually…."
"Did you not hear me? Three penisses! At the same time! They'd rape her as she was crying just imagine the sperm and…"
Not okay. Fetishists are hard to reach because they are so caught up in their perverted fantasies of powerful men, global gangs and white, young, innocent women who are shipped around and abused daily. When confronted with facts they simply start repeating their detailed fictional sex stories. They stalk the Red Lights District and ask prostitutes inappropriate questions about their sex life. You can often see them become a bit flushed, red moist lips slightly parted, a feverish look in their eyes. It freaks me out. Don't involve me in your sexuality without my consent please. And don't deny sex workers their rights because the idea that they are forced turns you on.
The Fantasist
The Fantasist is the less pervy version of the fetishists. It's those people who will tell such obviously falls stories that you have to wonder if they believe it. They get something out of their myths of bad men and powerless girls, and seem to have somewhat lost touch with reality. They 'cherry pick' research to find upsetting details, repeat the most gruesome stories, get angry when confronted with more nuanced views, ignore actual sex workers and quote statistics that logically cannot be true. But even after you've explained that it's not possible that three million young girls are trafficked each year, the average age of entry into prostitution is 13 and average age of death 32, even after you show them the basic math, they go "lalalala" and continue repeating it. The myth means too much to them.
They are different from the fetishist in that they don't seem to be creaming their panties as they're talking, but they often do get that feverish look in their eyes. It's like talking to someone who has lost themselves in fearful extremist religion, or with some other very strange belief like thinking they can move objects with their mind. The fact that nothing is moving just does not register. Facts do not come through.
I was a bit shocked to see Renate v/d Zee embarrass herself on television by quoting obviously false statistics, but even more shocked when I realised that she had indeed read these reports, read all these findings that contradict her beliefs, and then managed to not let it sink in but instead completely reverse the findings in her head, and then quote those on national television as if she didn't realise she had twisted it all around. That's scary.
The Fundie Anti's
The Fundie Anti opposes sex work because of an understanding of how the sex industry works. They are different from the Neutrals in that they sometimes know quite a lot about prostitution, but interpret this information within a theoretical framework in which sex work is wrong by definition.
The Sexist Fundie believes that no woman could possibly want to do sex work, that male sexuality in inherently aggressive and that we need laws to restrict this violence. More often than not the reasoning is quite childish ("I'm a woman and don't want to do sex work so no woman would want to do sex work") and contains hateful assumptions about men ("you know how they are, they just want a hole to dump their seed in, they don't care"). These are the Anti's who will claim that there is in fact a big market for crying malnourished sex slaves, because obviously men don't care about the women they fuck as long as they get to fuck her.
The Religious Fundie believes that sex work goes against God's devine will. Prostitution is not how God intended sexuality to be like. A woman should value her sexual 'purity' and only give away her sex to a man who will pay her in the desired currency: love and commitment, not money. Religious Fundies usually seem to mean somewhat well – they truly believe it is naturally harmful for a woman to have sex outside of a committed relationship and socially harmful in that no man would want a 'used' woman so what will her future be like without a husband and kids, and isn't that what every woman desires? Other Religious Fundies become vile and wish to punish those dirty, disobedient whores. Punish them until they submit to my, I mean God's will! The male Religious Fundie Anti will sometimes let truly medieval statements slip: "do we wish to allow our women to prostitute themselves? Is that what we want for our daughters and wives?".
The Marxist/RadFem Fundie believes prostitution must be understood within a context of various forms of oppression. I actually find this line of thinking quite interesting, although I have to admit that I don't know enough to give a good summary of their beliefs and would urge readers to research more before judging. I'm discussing the two together because they have many similarities, but I understand there are differences. According to the Marxist/RadFem the practice of the selling of sex is a result of the systematic oppression of women within a capitalist society, intersecting with other forms of opression. According to them, in an egalitarian society sex work would not exist. These Anti's are often in favour of the Swedish/Nordic Model (criminalising the clients of sex workers). The oppressed should not be punished for their oppression, they say, instead the oppressor must be stopped from oppressing: men should be stopped from exploiting women by buying sex from them.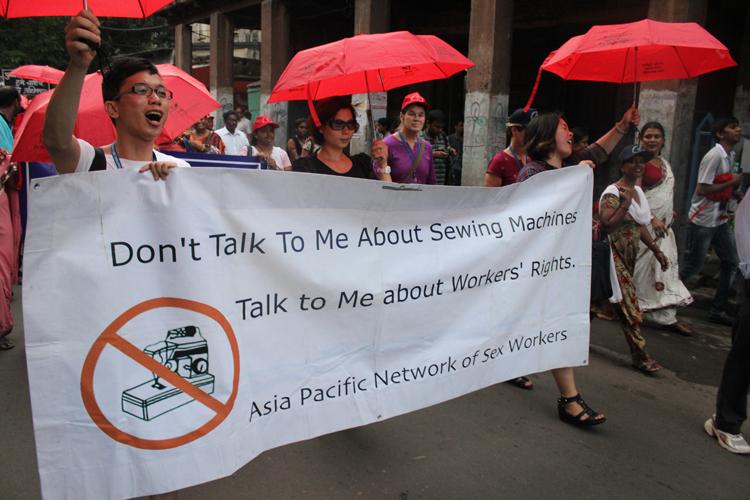 I don't disagree with Maxist theories entirely. But my intuition tells me your reasoning must be wrong when the ruling class tells the oppressed to be silent. Rich white men telling poor coloured women they know what's good for them is icky. Something's off when the ruling class tells the oppressed "you think you want labour rights, but you don't. It's part of a bigger picture that you don't understand, only I as an educated rich person do. Trust me. You want us to make your job more dangerous by criminalising clients. It will be better in the long run, you don't understand, so shush now, no need to organise or speak for yourselves, we've got it covered." Oppression should not be fought by taking away the labour rights and human rights of the opressed. If sex workers are really the victim of an unjust system of oppression, we should give them the power back. Listen to them. Respect they might know best what they need.
These are caricatures, I understand. But I think it helps to know who you're arguing with. The Idealists and Bad Guys are often lost causes, but the Neutrals can be reasoned with. Information and visibility help with that. Sex workers and their allies are winning the fight for prostitutes' rights and safety, not even Anti's can stop that.