The Magdalene Laundries might have closed, but sex workers are not safe from Irish Sisters at all. The nuns simply regrouped, renamed themselves and are still harming prostitutes. A little background information:
F
rom 1765 all the way to 1996, 'fallen women' in Ireland were taken from their homes and incarcerated in so-called 'Magdalene Laundries'.  A fallen woman could be an unmarried pregnant woman, a girl who was considered too promiscuous or a prostitute who needed to be 'saved'. In these prostitute-prisons they were horribly abused and had to perform forced labour.
"the institutions had little impact on prostitution over the period", and yet they were continuing to multiply, expand and, most importantly, profit from the free labor. Since they were not paid, Raftery asserted, "it seems clear that these girls were used as a ready source of free labour for these laundry businesses". Wikipedia
The 1993 discovery of a mass grave in Dublin opened up the conversation about the exploitation of prostitutes and led to a government inquiry. A formal state apology was issued in 2013, and a €60 million compensation scheme was set up. The four religious institutes that ran the Irish asylums have not as yet contributed to compensate the survivors of abuse. This is despite demands from the Irish government, the UN Committee on the Rights of the Child and the UN Committee Against Torture.
You think the exposure of all their crimes would have at least stopped the Sisters of Mercy, Sisters of Our Lady of Charity of the Good Shepherd, and Sisters of Charity from abusing sex workers, right? They refuse to acknowledge what they did or compensate their victims, but maybe they would be out of the whore-hurting business, right? Surely they're not making money, right now, doing the exact same thing, right?
Yeah, right.
The Sisters continue their abuse
Ruhama, the largest anti-sex work organisation in Ireland, was founded as a joint initiative of the Good Shepherd Sisters and Our Lady of Charity Sisters, "both of which had a long history of involvement with marginalised women, including those involved in prostitution". They're even funded by the Department of Health Department of Justice. They received over 14 million between 2006 and 2011.
"We know that Ruhama is led in part by Magdalene Laundry nuns" said Kate McGrew, member of the Sex Workers Alliance of Ireland. Sex workers in Ireland have been fighting for human rights, labour rights and protection from (state) violence. But they have found a persistent and aggressive enemy in the Catholic sisters. Ruhama has not just been bothering prostitutes again,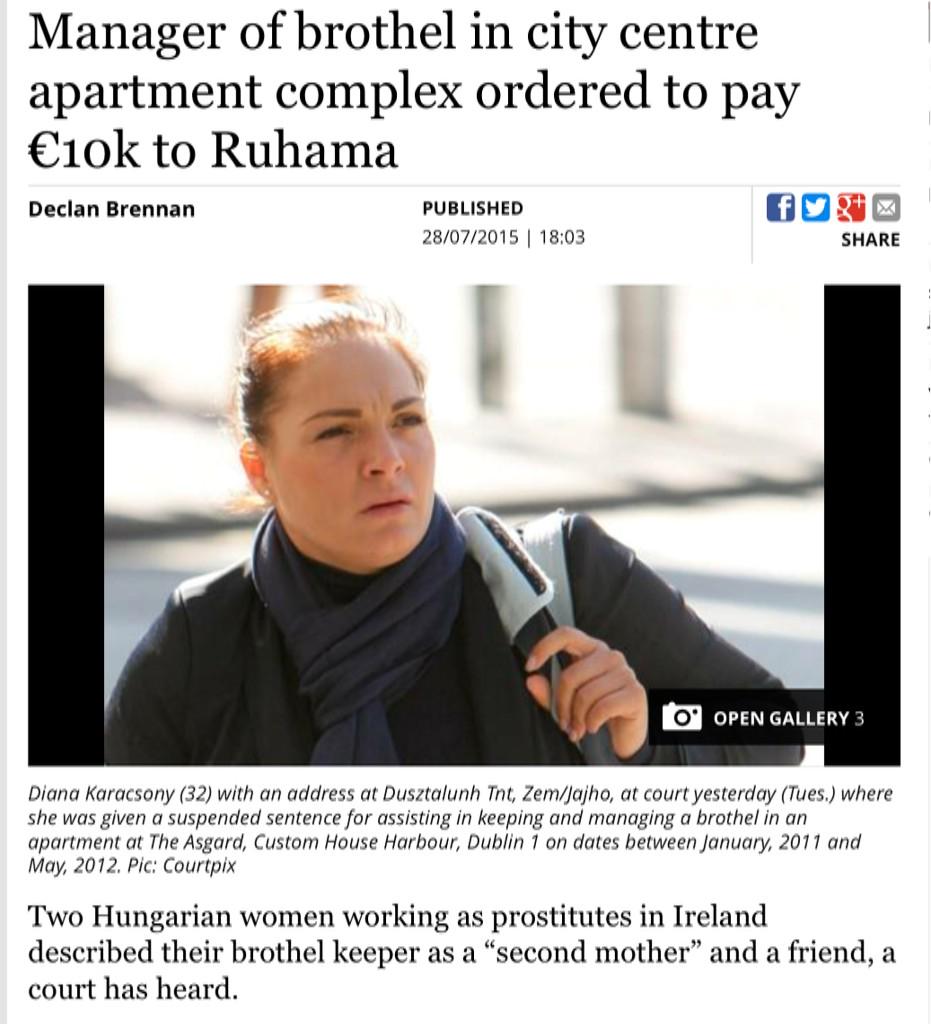 they also actively campaign against sex workers' rights. They opposed Amnesty International's proposal in favour of human rights for sex workers and are fighting against everything sex workers demand.
But still, the Irish government is allowing Ruhama , those same people who abused and exploited prostitutes, to advise them on laws that directly impact sex workers, while excluding sex workers themselves. Not only is the Irish government funding the same people that abused sex workers for all those years, they even consult them as 'experts' on prostitution.
How many more skeletons need to be found in closets or cesspools before the public wakes up to the evil of prohibitionism? How many more lies until the self-appointed saviors lose their credibility for good? And how many more women have to die? – Maggie McNeill
Ruhama does not offer any actual help to sex workers who need help. Rescue organisations and anti-prostitution NGO's rarely do, they mostly make money by 'raising awareness', abusing prostitutes, receiving money from governments and providing 'education' to health professionals and policy makers. But it seems they haven't killed any babies. yet. So, you know, that's something…
You can read more about human rights for Irish sex workers here. You can read more about abuses in the anti-trafficking rescue industry here.